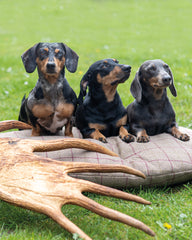 Our Story
Welcome to our family-owned business, where our passion for dogs and their well-being has driven us to create the perfect products for our beloved pets. Our journey began with our three adorable dogs - Daisy, Anna, and Bubble. Not only are they a part of our family, but they also play essential roles in our business, from advertising to quality inspection.As proud dog parents, we always looked for the best pet toys and treats. That's when we discovered the magic of antler chews. Our dogs loved gnawing on these long-lasting chews, and we knew we had stumbled upon something special. Through years of research and working with antlers, we've identified naturally shed wild antlers as the best dog option. We meticulously prepare each antler, making sure to remove any sharp points and cut them to the perfect size for your furry friends to enjoy.
But our quest to provide the best for our dogs didn't stop there.
As working dogs, Daisy, Anna, and Bubble have always been drawn to wild flavours, particularly venison. That's why we were thrilled when we discovered the WILD ANTLER brand. Offering low-fat, highly nutritious, and natural venison-based dog food and treats, WILD ANTLER was the perfect match for our dog's cravings.
In our pursuit of providing the best for our pets, we also discovered TREABY - a fantastic range of 100% natural dog chews and supplements. With a focus on health and nutrition, Treaby products are a great alternative to traditional treats and supplements, ensuring your pets receive the best care possible.Today, we are proud to share our discoveries with fellow dog lovers, offering you and your pets the best in antler chews, venison-based dog food, and natural chews and supplements. Our family business is committed to ensuring that your dogs receive only the highest quality products, just as ours do.Welcome to our family, and happy chewing!
Join Antler Chew Family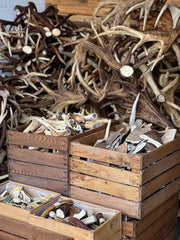 Our Guarantee
Antler Chew Wholesale Ltd is proud to present an extensive range of premium, eco-friendly antler chews sourced from local and sustainable sources. Our carefully curated selection includes antlers from red deer, fallow deer, and elk, ensuring a perfect fit for every breed and size of canine companion.
Each antler chew undergoes a rigorous quality control process, which guarantees that only the finest, long-lasting chews make it to your doorstep. With a wide variety of sizes, shapes, and strengths, our collection caters to the unique chewing preferences and needs of every dog.
In addition to providing hours of entertainment and promoting healthy dental hygiene, our antler chews are packed with essential nutrients like calcium, phosphorus, and glucosamine, which contribute to the overall health and well-being of your furry friends.
As a responsible and environmentally-conscious business, Antler Chew Wholesale Ltd is committed to supporting local communities and promoting ethical practices in the antler industry. We maintain strong relationships with local suppliers, ensuring the antlers are sourced from free-ranging, naturally-shed deer and elk populations.
Choose Antler Chew Wholesale Ltd for a sustainable, high-quality, and nutritious treat that will keep your dog engaged, healthy, and happy.